8 Best Places To Visit In Florida 2018!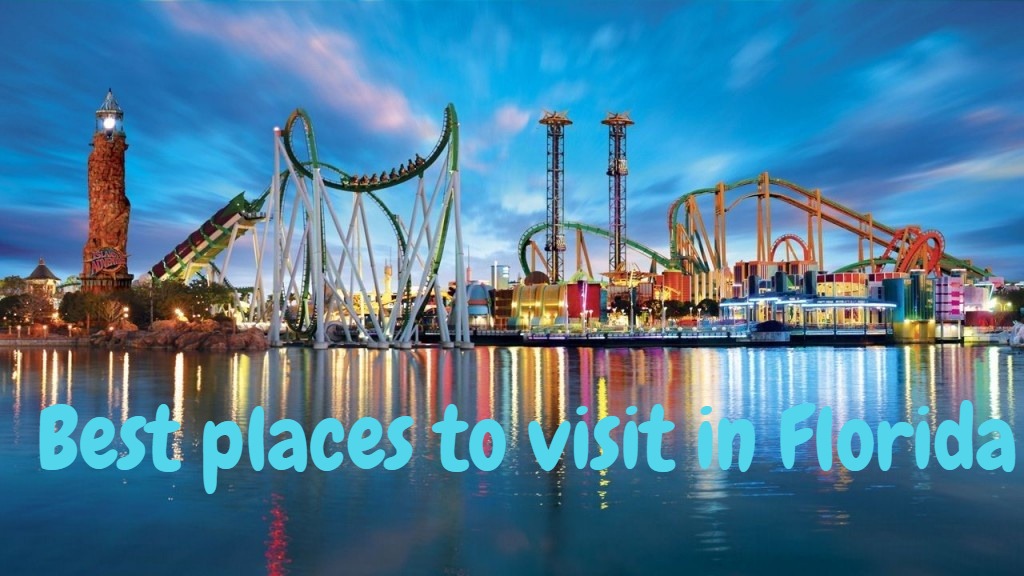 You'll be amazed at the number of incredible places to visit in Florida when you visit this remarkable state. The fabulous region was once a Spanish colony and is home to more than just orange juice, theme parks, and alligators. Bordered spectacularly by the Gulf of Mexico on one side and the Atlantic Ocean on the other, Florida is lined with miles of stunning white sand beaches. The place is an absolute treat for all types of travelers to visit be it solo backpackers, friends, or families alike.
Top Florida Attractions:
A delight to visit, Florida is among the best family vacation spots in the US. There are so many attractions to enjoy here that leave you no scope for boredom. Book last minute flights for your trip in case you don't have time to make reservations for a flight in advance. Come to Florida and explore some of its top places and attractions listed below.
Florida Keys
There are few sights as spectacular as this 120-mile long chain of tropical islands beautifully curving around the base of the stunning Florida peninsula. These are connected to the mainland by a series of bridges with the most fantastic bridge being the Seven Mile Bridge. The best way to see these is to take a road trip and stop at whichever key you wish to along the way. Top attractions include beaches, snorkeling, diving, botanical gardens, museums, and Theater of the Sea among other things.
Orlando
Popular for theme parks, Orlando is one of the best places to visit in Florida with kids. There is a myriad of theme parks to choose from such as Walt Disney World, SeaWorld, Universal Studios, Epcot Studios, and Gator Park among several others. Together, these parks manage to bring in an average of 51 million visitors to this Florida city every single year. Stay for at least a week and visit as many awesome theme parks as you can.
Miami
Famous for its sizzling nightlife and Latin culture, Miami is among the most popular tourist places to visit in Florida. It's also a major port city managing a massive number of passenger cruise ships. Book economy or business class flights and enjoy some of Miami's many attractions which include sunny beaches, bars, casinos, and an array of high-end restaurants. Offering an incredible and wild party scene, this is a great place for hardcore party enthusiasts to visit.
Clearwater Beach
Offering a tranquil and romantic vibe, Clearwater Beach is among the best places to visit in Florida for couples. Enjoy miles of white sand beaches with your beloved in Florida's best beach town. Hit the beach for a swim, surf, stroll, or to simply lay sunbathing – the choice is absolutely yours. Other attractions you can enjoy include kayaking, dolphin tours, fishing, and sailing to name a few. If you visit in October, you can attend the Clearwater Jazz Festival held during that time.
Tampa Bay Area
Placed on the Gulf of Mexico, this is a great place for families to visit in Florida. Its affordability makes it one of the best cheap places to visit in Florida enabling visitors to enjoy attractions without it being a burden on the wallet. Popular attractions include Busch Gardens, St. Pete Beach, a zoo, and a theme park with some of Florida's best roller coaster rides. Water lovers must visit St. Pete Beach for sure and enjoy its clear waters and sparkly white sands.
Fort Lauderdale
With an upmarket social scene and a high-end cultural center, Fort Lauderdale is among the most fascinating places to visit in Florida. Nicknamed as the Venice of America owing to its vast network of canal system, the city is situated on the Atlantic Ocean and is placed north of Miami Beach. The city is home to luxury hotels, museums, golf courses, and marinas among other things. "The Strip" is the most popular section of the beach and is lined with top-notch eateries and drinking establishments.
Naples
Not many people are aware of the fact that Naples is among the wealthiest US cities with residences selling for more than $40 million. The city got its name as the Bay it's located on was judged to be more beautiful than the Bay of Naples in Italy. Top attractions include the city beach, Florida National Wildlife Reserve, shopping districts, Everglades National Park, Corkscrew Swamp Sanctuary, and art establishments among other things.
Sanibel Island
This is one of the best places to visit in Florida for travelers seeking a low key and tranquil destination. With spectacular wildlife refuges taking up more than half of this stunning island, this place is a nature lover's paradise. The beaches of Sanibel Island are great places to collect pretty shells. Other attractions include a botanical garden, a top-rated historical museum, an arts center, and a beautiful lighthouse.
Wait no longer to book India to USA cheap flights for a trip to this stunning place. Visit and enjoy exploring some of these best places to visit in Florida mentioned above. You can book cheap flights for your trip to Florida with Indian Eagle travel agency which offers them at incredibly low rates. You can book your return flights to India with the same agency. They offer cheap flights from USA to India all through the year so book whenever convenient to you.
Meta Description – We've listed some of the most spectacular places to visit in Florida for travelers heading to vacation in this stunning region. From places to visit in Florida for couples to places that entire families can enjoy visiting together, there are attractions for all types of tourists.